Whether you want to be close to temples and other sights or escape to a rural setting, there's a Kyoto hotel. Some, like Genmyoan, offer amazing mountain and river views that you can enjoy from your private onsen, while others, such as Rangetsu, provide a relaxing forest view.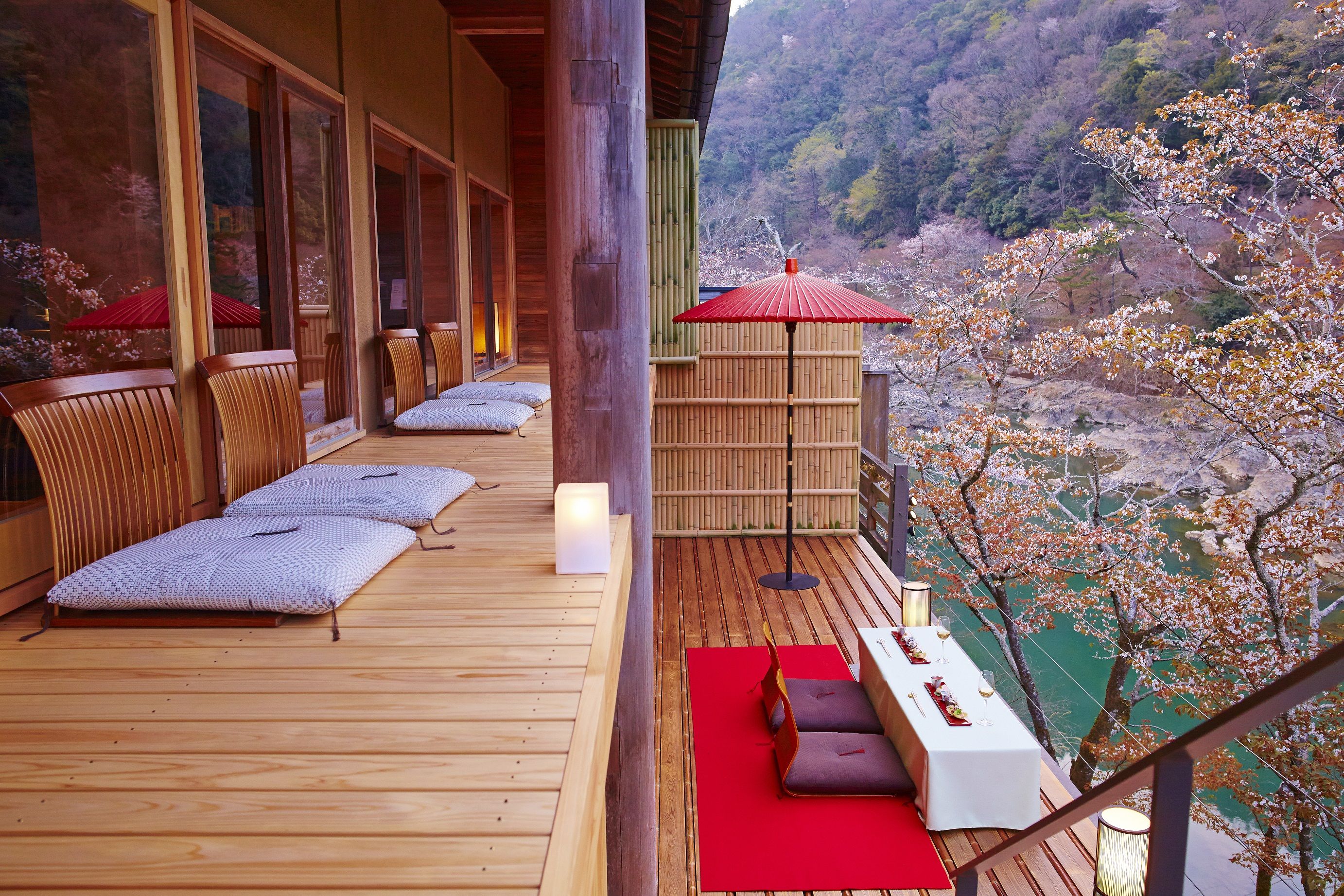 Best Ryokan
If you want to experience Japanese culture, staying at one of the best ryokans in Kyoto is a must. These traditional inns are filled with history and offer various experiences, from traditional meals to onsen bathing. Located in the Geisha district of Kyoto, this ryokan has rooms with private onsen, and the staff will treat you like royalty during your stay.
Kyoto has many luxury hotels, but a ryokan is the way to go a ryokan is the way to go if you're looking for the true Japanese experience. These traditional inns are a step back in time and offer a relaxing place to unwind after a long day of sightseeing. They also provide a variety of conventional experiences, from tea ceremonies to maiko dance performances.
Ryokans are a great option for families or groups because they accommodate many people. They are often located outside the main city center, but they're close enough to make it easy to get around. These accommodations are also more affordable than hotels and can give you a taste of authentic Japanese culture.
The Ryokans in Kyoto are known for their onsen baths and natural hot springs. They are used to soothe the skin and relax the body. Depending on the ryokan, they can have various types of onsen baths. Some have outdoor tsubo buro (ceramic pot) onsen, while others have indoor baths.
Guests at these hotels are treated to a traditional Japanese meal called Kaiseki, served in the evening. Expert chefs prepare the food, and it is fresh and delicious. The service at these ryokans is also top-notch, and the staff is always willing to help their guests.
One of the best ryokans in Kyoto is Gion Hatanaka. It offers a luxurious experience only a few blocks from the city's most popular tourist attractions. The rooms are decorated with tatami mats and futon beds, accommodating up to eight people. The hotel also offers a variety of amenities, including free WiFi and an open-air bath.
Best Area to Stay
Kyoto is a surprise-filled cultural hub of ancient temples, gourmet cuisine, and centuries-old traditions. But it's also one of the most luxe destinations in Japan, with a reputation for exquisite hotels and opulent services that rival Tokyo's. Our hotel experts' top picks for the best luxury hotels in Kyoto include everything from minimalist contemporary style to traditional elegance.
The best area to stay in Kyoto depends on your budget and whether you want a central location or more of a residential feel. Those looking to save money should opt for Nakagyo, which offers cheap accommodation and easy access to the main attractions. If you want to splurge, the Kiyomizu area is home to several top-end hotels, including the Hotel Seiryu Kyoto Kiyomizu and the Gate Hotel Takasegawa by Hulic.
If you want to be near Kyoto's best shopping, restaurants, and nightlife, choose Downtown Kawaramachi. It's within walking distance of the most popular sightseeing neighborhoods, including Gion, and two subway lines — Kyoto Station and Karasuma — run through it.
For a modern boutique hotel with a touch of traditional Japanese décor, try Hotel Kanra. It's just a 5-minute walk from Gojo subway station and 15 minutes from Kyoto Station. The rooms are spacious, and the bathrooms feature luxurious amenities.
There's no shortage of luxury hotels in Arashiyama, but Benkei Arashiyama stands out. It's a ryokan (traditional Japanese inn) with onsen (natural hot spring baths), karaoke, and spa facilities. It's the perfect place to relax after a day of exploring the area.
Another unique ryokan is Suiran, which overlooks the Hozu River in western Arashiyama. The rooms are a mix of traditional and modern, and some have terraces that look out over the bamboo grove. The onsen is large and features a stunning waterfall.
Kyoto's peak tourist seasons are during the cherry blossom and fall foliage, so expect high room rates. If you plan to book a room at a ryokan during these periods, make reservations well in advance. You can also request a deluxe room when booking, adding a jacuzzi tub and free breakfast.
Best Place to Stay
Japan's former capital is a cultural wonderland with over 2000 shrines and temples, atmospheric districts, and an amazing gastronomical scene. While Kyoto is best known for its traditional architecture, it offers plenty of modern luxury hotels to make your visit special. Whether you prefer a minimalist futon-laced room or a luxuriously appointed suite, our list of the best hotels in Kyoto has something for everyone.
The most prestigious hotel in Kyoto is undoubtedly the Park Hyatt, which offers immaculate rooms, excellent on-site restaurants, and attentive service. This upscale property also sits in the heart of the Southern Higashiyama sightseeing district, making it ideal for a romantic stay or an easy base to explore Kyoto.
This intimate boutique hotel combines the best of Japanese and international design sensibility. With just 13 rooms — one decorated in black (to resemble the tranquility of the womb) and another inspired by a kimono — this unique hotel stands out for its design, amenities, and location. It's located in a quiet street lined with antique and craft shops, and it's an easy walk to downtown Kyoto.
If you're looking for a more modern hotel experience, consider the Hotel Mystays, which is part of the Accor chain and has well-appointed, clean rooms with ample storage space and flatscreen TVs. It's located just down the road from Kiyomizu-Dera Temple, and it offers a free shuttle to a nearby mall and several restaurants.
Another great option is the Hotel Granvia, a modern luxury hotel a short walk from Kyoto Station. The rooms are spacious and nicely furnished, and the hotel has a great breakfast buffet. The only downside is that the hotel can be noisy at night because it's close to a busy subway line.
Another excellent modern luxury option is the Celestine Kyoto Gion, which opened in 2017 and occupied a converted machiya house. The best rooms in the main building open onto a garden, while those in the annex have views of Kyoto's traditional rooftops. The hotel is conveniently located near the famous Gion and Southern Higashiyama sightseeing districts, and its rates are lower than most of the other options on this list.
Best Luxury Hotel
As Japan's ancient capital, Kyoto is home to 17 Unesco World Heritage Sites, and traditional Japanese culture is most vibrant in this city. Whether you prefer to spend your days strolling the narrow streets lined with wooden houses and buying wares from ancient specialty shops or visiting temples, Shinto shrines, and tranquil gardens, there is something for every traveler here. It's no surprise then that Kyoto is also rich in luxury hotels. The best of these are ryokan-inspired but with an added touch of upscale comforts, and they range from a retreat right by the Imperial Palace to a five-star hotel tucked away in a former tea master's residence.
The best luxury hotel in Kyoto is The Ritz-Carlton, which boasts one of the city's best locations and is the country's first urban resort. Set on the Kamogawa River with sweeping views of Kyoto's iconic Higashiyama mountains, this hotel has 134 rooms, suites inspired by Japanese motifs, and four restaurants and bars, including modern Japanese cuisine. The hotel offers a spa experience rooted in the country's wellness traditions and is close to the most popular tourist attractions, including Gion.
Another top option for a luxury stay in Kyoto is the Nanzenji Sando Kikusui, which has one of the city's most enviable hanami (cherry blossom viewing) spots and a stunning garden. The hotel combines Western and Japanese designs and offers comfortable, spacious rooms with a rooftop terrace. It's a short walk to popular attractions like the famous bamboo forest and monkey park and is well-placed for exploring nearby temples.
Lastly, Aman Kyoto is among the city's best-kept secrets and is a hidden sanctuary ideal for couples seeking romance on their visit to Kyoto. The hotel is located in the heart of a forested area that's inspired many artists, and it reimagines classic ryokan design to create intimate and calming spaces. Guests can soak in Japanese cypress baths, indulge in a soothing massage, and even participate in an ancient tea ceremony here.